Power & Motoryacht: Seakeeper Ride Sea Trial and Review
In an exclusive first test, Dan reveals how the Seakeeper Ride will usher in a new era of stabilization—for the masses.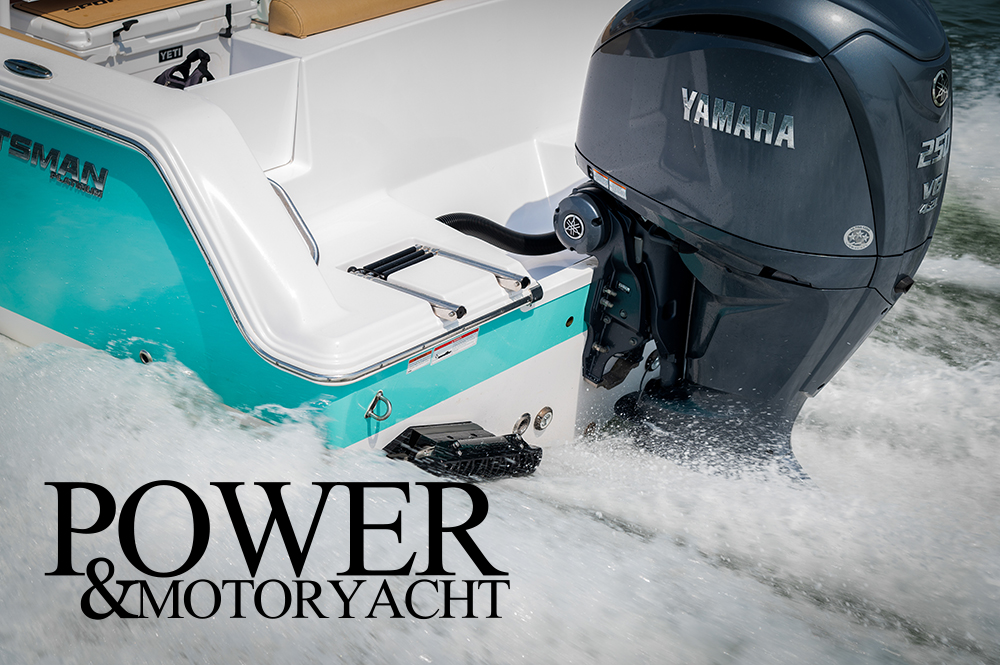 Changing The Game. Again.
Seakeeper Ride is the first-of-its-kind Vessel Attitude Control System (VACS) that eliminates up to 70% of pitch and roll underway.
"Nothing I can say will convince you. You've got to experience it, and once you do, you'll be convinced."
That line was penned by an industry icon in his own right, the late former Editor-in-Chief of Power & Motoryacht Richard Thiel. Richard was quoting Shep McKenney, who had pestered him for months to test and report on a new product he claimed would change boating forever. Richard was skeptical but eventually relented and flew to Norfolk, Virginia, to climb aboard a Viking 43 equipped with a mysterious "stationary white, beachball-size orb," a device today known to boaters the world over as a Seakeeper.
I couldn't help but wonder if history might be repeating itself as I weaved my way to Atlantic City to test the second product to be released by the manufacturer, a top-secret transom-mounted device that would, according to the company, "change boating … again."
I'm skeptical by nature. Part of me wondered if this mysterious new invention would simply be Seakeeper's answer to interceptor-style trim tabs that have become standard equipment in recent years. But when an innovator like Seakeeper comes calling with such claims, you get in the car.
So it came to be that I found myself standing beside Seakeeper's young, intrepid CEO Andrew Semprevivo aboard a Sportsman 322 in 3- to 5-foot seas off Atlantic City. With a dark sky along the shore and the threat of a downpour looming, he said, "let's try this with the system off first." He spurred the outboards and launched us into a not-so-pleasant high-speed dash through the rough conditions. Sportsman builds an impressive boat, but as we slammed into the short-period troughs, because of, well, gravity, I felt it from my knees to my molars.
"Now let's try with it on," he said, pressing a small button at the helm. This is it, I thought to myself, the moment of truth. Immediately I noticed that the bow rise when climbing onto plane was significantly reduced. Where the Sportsman had previously labored against the sea state to climb out of the hole, it was now a Boeing 747 lifting smoothly from the tarmac. To my knowledge, there's only one guy out there who can lay claim to parting a sea, but the transom control system—called Seakeeper Ride­—felt like it was doing just that. The bow stayed fixed on the horizon, the rolling reduced greatly, and the ride became much more comfortable.
"We launched a couple development attempts at this system in the past that I thought were better than anything on the market but it wasn't 'hit the button, holy shit, Seakeeper wow,' which is what you feel when you hit the gyro," says Semprevivo of the company's biggest gamble to date. "If we were going to come out with a second product, it would have to offer that."
At first glance, Seakeeper Ride may resemble other interceptor trim tabs but the software behind this DIY-friendly system makes it a standout.
Semprevivo was eager to hand over the wheel to let me feel it from the driver's perspective. I'm fairly at home on the water but with a crew aboard I didn't know well and the messy conditions, I was again feeling a little skeptical—this time with myself. I blasted around with the system off for a while and did my best to hit waves at a proper angle and not beat up the crew too bad. Results were mixed at best. With the system on, however, my confidence grew. I was suddenly not Dan the Editor, but Don Arnorow in pursuit of another offshore racing championship.
According to an onboard monitoring system that produced real-time measurements, the Seakeeper Ride was actively eliminating roll by 35 percent and pitch by 52 percent. The numbers only tell part of the story, however. The boat felt genuinely safer with the system engaged. That didn't stop a proud Semprevivo from regularly encouraging me to run with the system both on and off.
"Alright, I believe you. Can we just leave it on?!" I joked as we motored back towards the inlet. He laughed and said that I wasn't the first person to say that.
I was convinced that Seakeeper had another game changer on their hands, though not entirely sure how or why it worked so well. But Semprevivo wasn't convinced that I appreciated it enough. He told me we'd be switching boats to a smaller 21-foot Sportsman.
By this point, the clouds around us had shifted from slightly frustrated to full-on angry, and the seas offshore continued to build.
"Normally we'd never go out in these conditions in a boat like this," Semprevivo said as we headed back out to sea. It's at this point that my legal department would like me to remind everyone that the system doesn't perform miracles, and that just because this system made me feel safer doesn't mean it's a hall pass to be reckless and go out in conditions you and your boat can't handle.
But this was in pursuit of science and journalism, so out we went. On cue and at speed, he handed me the helm. I dutifully turned the Seakeeper Ride system on and off when pushed by Semprevivo and eventually came to expect its sea-calming abilities. With it engaged, you always felt like you were on a boat, but the seas were chopped in half.
Now rolling smoothly over the angry swells, I was reminded of something Semprevivo said years earlier at a hole-in-the-wall lunch spot after touring Seakeeper's Mohnton, Pennsylvania, facility. Seakeeper Marketing Manager Kelsey Barrett jokingly asked when the company would have a stabilizer for her 15-foot Boston Whaler. With a completely serious tone he replied something to the effect of, "Some day, we're going to impact and change boating for everyone."
Only through the lens of hindsight do I realize he was hinting at not just smaller gyros, but Seakeeper Ride.
"Where so many new boaters get themselves in trouble is when running through an inlet," Semprevivo said. "You'll see them stuff the bow and put themselves in danger. Run us back through the inlet," Semprevivo encouraged. My confidence growing, thanks to the system, I ran us home, racing an impending downpour. The fear I had heading out to sea was washed away. I was a believer, but not yet an understander.
Back on shore, it seemed most fitting that the curtain would be pulled back on the company's biggest gamble to date in a conference room just beyond the hotel's casino, a large transom mock-up allowed me to not only see the Seakeeper Ride system, but the simple electrical installation behind the scenes.
I was pleasantly surprised to learn that Ride is designed to be installed by DIY-savvy boaters—though it will likely be later next year before it becomes available for personal installs. Semprevivo says the Ride system can be mounted to a transom with an adhesive like Plexus—your boat will only need one hole for the power supply in the center of the device. From there you need to run power supply wiring, mount a small RIDE module—the brain that controls the system and learns your boat handling preferences—and then route it to your MFD.
Outside of some limited setting preferences, such as preferred amount of bow rise, there is no configuring the system and no setting up the parameters of your boat. Seakeeper doesn't want users to think about the system at all. In fact, they don't even want the physical on/off button (which I actually liked) to be on most boats. They want the system to simply remain on and be forgotten about—adjusted solely by your MFD.https://pmyachtclubcom.powweb.com/newsletter-signup.html
"What you feel is a transom-mounted device that looks very different than a traditional tab or interceptor, but in the same way as a trim tab it creates lift at the transom, which allows you to control running angle or list angle of the boat. That's the easy part," says Semprevivo. "The hard part is how fast you have to move it to control the motions of the boat that happen underway. You have yaw, you have roll, you have pitch, and you have different headings. We're making 100 adjustments a second, which enables pitch and roll reductions of 70 percent at speed."
In the conference room I watched the demo Ride system deploy and retract at greater and greater speeds. At full deployment the system's blades dig an inch into the water but the majority of the time the blades are only deployed .2 inches each. It's a tough concept to wrap your head around—that at 35 knots in rough seas, this slight change to your running surface can make such a difference. This revelation gives me a better appreciation for naval architects.
Where the real magic happens is in the software that can not only react to the insanely complicated forces of the sea, but instantaneously apply a counterforce to the Seakeeper Ride's blades. That job fell to another young visionary, Seakeeper's Director of Engineering Mike Gallagher. In order to develop a product to the Seakeeper standard, Mike and his team relocated to a small skunkworks-style location in New Jersey where they would eat, breathe and sleep Seakeeper Ride. "Andrew really created a culture for us that felt like a scrappy start up," says Gallagher.