Software Updates
Keep your system up to date with our latest software update!
Product Version 2022.12.2 contains:
Platform 73BE9214
Core V2.2.0.98-4BE971D1
Web V2.2.0.144-39F13A0D
Controls Software (SCM) V2.11.1-3E430A2
Actuator V1.8.0
Keypad (KCM) V2.0.0-3877868
Updates include:
Performance improvements
Improved fault detection and actions
USB update capability for all CAN devices
Addresses IMU faults on power on
Addresses occasional screen freeze on Garmin MFD
Software Module can update all CAN devices, and software downgrades are not permitted
What You'll Need:
Empty USB flash drive between 4GB and 32 GB in size
Note: USB Flash drive formatted to either FAT or FAT32
Micro USB-USB OTG Adapter
Note: This must be an OTG (On-The-Go) adapter
How to Update Your Software:
At home:
Download the latest Seakeeper Ride software, above, onto your computer.


Insert the USB flash drive and transfer the software update file onto the flash drive and remove the drive from the computer
At your boat:
Turn on your boat, and in turn, your Seakeeper Ride system:

Power boat battery switch on and turn the key switch on
Confirm the Seakeeper Ride system is on by opening the Seakeeper Ride app on your MFD.



Locate the software module (often installed in the helm) and remove the rubber covering on the upper left side. There will be two green LEDs visible.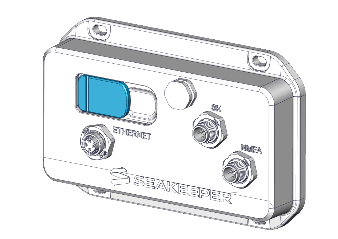 Connect the USB flash drive to the adapter and insert the Micro USB-USB OTG adapter into the port on the software module.

After about 60 seconds, a red light will illuminate on the software module, indicating the update has started. The MFD will show the Seakeeper Ride system reboot followed by a screen with a progress bar that reads "CAN update in progress. Please wait…" In 2-4 minutes, the update will complete, and "CAN update successful" will appear. The Home Screen will display on the MFD and the red light on the software module will turn off.

Remove the USB flash drive and adapter and reattach the rubber covering.

After completing the update, if a fault code appears, press "clear" to clear the code. Verify the update by selecting the information screen and confirming the new software versions shown.